VTUVIA SN100 eBike Test | Photo Greg Von Doersten Mountain Weekly News
The bike is a versatile tool. With the advent of the e-bike, these machines have been getting more useful. The VTUVIA SN100 is one such bike. It is purpose built for the trail. As noted by its name, this bike can be used for activities outside of biking.
The SN100 is an interesting bike, and it does not ride how you would assume a bike is supposed to be ridden.
1. 750W Hub Motor
2. Thumb Throttle
3. Suspension
4. Headset
5. Drivetrain
6. Overall impression
750W Hub Motor
E-Bike Hunter Prepares for a Hunting Trip Using a VTUVIA SN100 E-bike to Access Big Game in Jackson, Wyoming. Wyoming | Photo Greg Von Doersten

The VTUVIA SN100 Electric Bike is equipped with a 750W hub motor. This motor is wildly powerful. There are five levels of pedal assist. With each level a stronger boost is provided to each pedal stroke. The max setting on the pedal assist will help you to reduce your reliance on the throttle.

With the pedal assist on, I was able to reach a max speed of 35MPH. For a 75lb bike that feels quite fast.

Thumb Throttle
Right Hand Thumb Throttle Reduce Fatigue | Photo Greg Von Doersten Mountain Weekly News

The thumb throttle on this VTUVIA Electric Bike was my best friend. Delivering instantaneous power to the wheels, the throttle on the SN100 is an excellent choice for such a heavy bike. When starting in an uphill position, all I had to do was depress the throttle to get the bike going.

It's slow at first, but the SN100 can pick up speed real quick once the 750w motor engages. Once you get going, you can keep adding power with more pedaling. The positioning of the throttle was comfortable, and I never felt that I never jeopardized my riding position.
Andrew Wee Enjoying The Speed and Control of the VTUVIA Fat Tire E-Bike on Local Trails | Photo Mike Hardaker Mountain Weekly News
Furthermore, whenever the motor was activated it was extremely quiet. I can see why someone would want to you this for hunting, especially with the 330lb towing capacity.

Suspension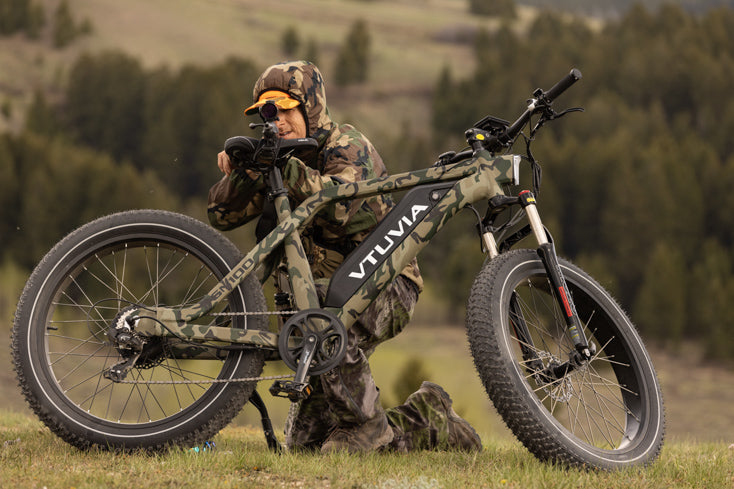 Mountain Weekly News Founder Mike Hardaker Taking Aim Using the VTUVIA Hunting Bike as a Shooting Stick | Photo Greg Von Doersten Mountain Weekly News
The frame of the VTUVIA SN100 has a rather unique frame. It seems to be built around the battery. The geometry of the bike places the VTUVIA SN100 battery on the bottom tube, which lowers the center of gravity.

To take on that weight, it has a MOZO fork. This fork takes on the task of reducing the impact on the bike quite well. Having a lockout is helpful for increasing pedal stroke efficient on the climbs and flats.
Glassing from the VTUVIA SN100 Hunting Fat Tire E-Bike | Photo Greg Von Doersten Mountain Weekly News
Equipped 26″ fat tires the SN100 has another level of traction. The fat tires also work well for mitigating tire sounds on the trial. This bike does have disc brakes. One thing to keep in mind is that this bike is heavy, which means it requires more braking power at speed to slow this bike down.
Headset
VTUVIA's Large LCD Screen | Photo Greg Von Doersten Mountain Weekly News
The headset of the SN100 has lot going on. There are cables running all over the place, which link to important tools, but it cramps the cockpit. One of the more advantageous pieces of equipment built into the headset is the LCD display. This shows important information like speed and battery life. It is pretty nice to have, especially while monitoring the range of the bike, which is 38-48 miles.
Powerful Headlight For Early Morning and Late Nights | Photo Greg Von Doersten Mountain Weekly News
Pedal assist controls are on a small button pad on the left hand. Overall it is easy to use and function the pedal assist and throttle with this setup, but the extra wiring looks a bit messy at times. One neat thing about the bike is that it has a headlight for those long late evenings. Not many other bikes have that built in.
Drivetrain
The Perfect Bike for Bow Hunting Season | Photo Greg Von Doersten Mountain Weekly News
Although this is a bike and has a motor in it, the drivetrain makes it difficult to start up. Like I said previously, the thumb throttle was my best friend. This was because this bike has such high gear range. It has seven gears, but they are all smaller than the front chain ring, which means that it takes more power to turn the wheels.

The other part of the drivetrain which could use improvement is a smaller chain. As I was riding up and down the trails, I felt that the chain kept bouncing. It never fell off, but it was clattering against the chainguards. NOTE: (we took this to our local e-bike store and were able to adjust the derailleur a bit to stop the slop from occurring again)
VTUVIA'S SN100 Fat Tire Bike Can Take You to Incredible Places | Photo Greg Von Doersten Mountain Weekly News
Overall impression

The VTUVIA SN100 26 Inch Hunting Fat Tire E-Bike is a very unique and purpose built bike. It has the ability to travel far, without much effort from the rider. It is quiet and quick.
A Fat Tire Bike Built with Hunters in Mind | Photo Greg Von Doersten Mountain Weekly News
With its carrying capacity, ability to add a rear rack and tow behind trailer a hunter or packer could bring a lot of equipment in and out of the field on this VTUVIA Fat Bike. The fat tires and suspension mitigated a good amount of bumps and drops on the trail. At a $1679.00 price point the SN100 is well worth it, being a functional and useful bike.
Hunting via E-Bike. Extend Your Range and Find Some Game Meat This Fall | Photo Greg Von Doersten Mountain Weekly News
---